Worried about losing customers during the coronavirus outbreak?
Use our FREE COVID-19 Survey to get a customer health report to help you reduce churn and uncertainty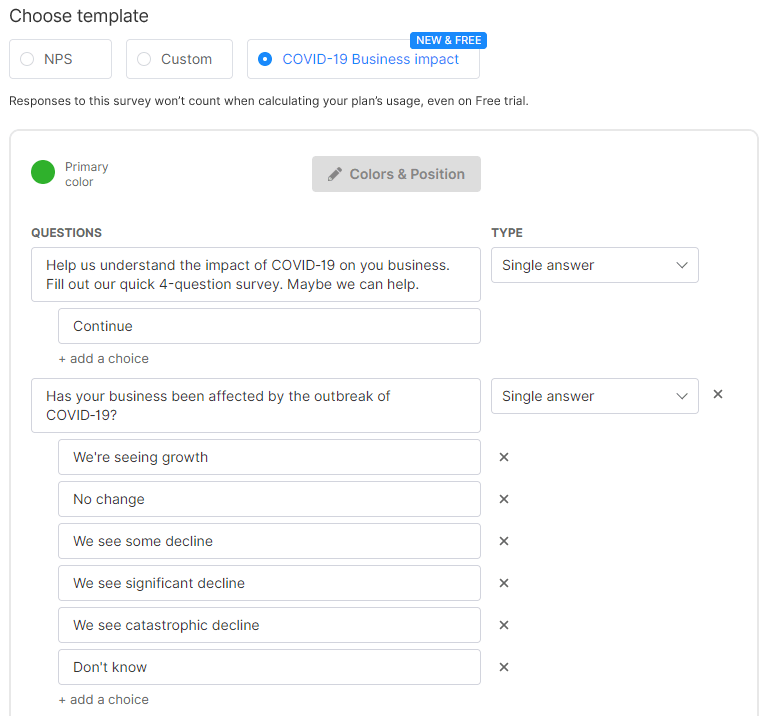 The Problem
Instead of searching for more profits, many companies are turning their attention to cost-cutting thanks to the coronavirus. And your company could be in the firing line. 
What if you could identify at-risk clients before they canceled their subscription? And discover the best way to provide value, keep them around and plan your future …
Our Solution
We developed a survey template to help you identify at-risk users and understand their feelings about the current situation. Allowing you to take action with them individually, as well as better estimate your company's future and plan your course.
And you can use it for FREE, via in-app or website widget.
We've separated it completely from our regular plans, so you can collect unlimited responses without any SatisMeter paid plan.
How it Works
1. Sign up for a free SatisMeter account or login to your existing account.
2. In your dashboard, follow the Start Guide to implement SatisMeter manually or via Segment (identify your users).
3. When creating a survey, you'll find the COVID-19 Business Impact Survey. The responses you collect with this survey do not count toward your trial or subscription limit (of our paid plans).
4. You can heavily modify and customize the survey, as well as translate it. You can also add unlimited team members and use our advanced property-based targeting (it's up to you, if you launch it to your whole user base or to paying customers only). You can launch it in-app or on website.
5. Use the survey to collect data on which users are thinking about cancelling their subscription due to COVID-19, and take action before they do. Get a health check of your selected user base and learn their thoughts on the situation to better plan your future.
Will this count against my current subscription?
No, all responses to the COVID-19 Business Impact Survey are separate from your standard subscription.
How many responses can I collect?
You can collect an unlimited number of responses for free.
Can I customize the survey?
Yes, you can! You can add or remove questions, use different type of questions (1-5 rating, Free Text or Single Answer), change the color of the survey, its position, language and almost all of the texts.
There is only one rule, the first question must include keywords such as "COVID-19" or "Coronavirus".
Can I export my data?
Yes. You can export your data as CSV before or after applying whichever filters you choose.
How do I send the survey?
You can trigger the survey in-app (SaaS application or user platform) or on the website for anonymous users.
You will be required to install our script via Segment or insert it manually in your product/web.
To identify the survey respondents, you will need to install via Segment or modify the script to connect it to your data. We have simple developer instructions available in the survey settings.
Will this prompt users to cancel their subscription?
We're running this survey template ourselves and so far we don't see any cancellation related to running this survey. We saw few COVID-19 related cancellations before launching this survey.
That being said, maybe this depends on your product and industry. We don't cover any bad effects that this could cause.
You could mitigate the risk by running this survey only for active users that continue to get value from your service at the moment.
Do I need to purchase a subscription to use this?
No, you do not need any current subscription to use the COVID-19 Business Impact Survey.
Survey tools can cost hundreds of $, is there a catch?
We have only one rule, the first question must include keywords such as "COVID-19" or "Coronavirus".
Otherwise, enjoy unlimited responses, unlimited team members and our property-based targeting.
Can I use different language?
Yes, although you would need to translate the questions from our English template yourself. It's up to you what texts do you use, there is only one rule, the first question must include keywords such as "COVID-19" or "Coronavirus".
Can I give dashboard access to guests?
Yes. In SatisMeter you can give read-only dashboard access to anyone via a link.
You can also invite unlimited team members to edit and manage your project.
Is this for me?
The survey is best for companies with online user base that have subscription/membership relationship with the company.
By the nature of in-app or website survey (that shows up as a widget right inside your product/platform), you will be able to collect more responses than with email/link survey and use the insights by looking at responses from specific users/customers.
You can also trigger the survey with conditions based on user properties from your platform, targeting only a specific segment of your user base.
Will this be difficult to install?
We heavy a very easy implementation with Segment. If you don't use Segment, you only need to copy paste a script on your website or in your product.
To identify the users, you will need to make small changes to the code. We have instructions that you can send to your developer, for them, it's a 10 minute task.
About SatisMeter
We are a 5 year old customer feedback platform that provides primarily NPS, but also CES, CSAT and other custom surveys. Our speciality is delivering surveys in-app, but we also support email, mobile and web. Our customers are mostly SaaS companies and other user platforms (When I Work, Hunter.io, Instapage, Buzzsumo, Mailgun, Dashlane, Mention, Aircall, Clearbit, etc.). Our primary product is heavy on integrations with Segment, Intercom, Slack, Zapier and more. We recently introduced custom surveys and we wanted to give something to the community by creating this COVID-19 template and making it free.
Get the COVID-19 Survey Today!
We're in this fight together, let's help each other survive.
Share the Love
Help us spread the word on social medias. Share this with a friend or colleague and help them get a free tool to fight COVID-19.
Wall of Love
Our partner companies, friends, influencers and media that are helping us spread the word.