The COVID-19 global crisis has dramatically impacted the customer experience landscape that we used to know. According to Salesforce, no less than 88% of customers expect companies to accelerate digital initiatives due to COVID-19.
From new expectations in CX to profound changes in customer feedback and necessary adaptation of customer service processes, these 55 facts and statistics should give you food for thought or shed light on some crucial components of this "new normal".
Companies Need to Adapt
Pandemic has shaped a new normal for customer experience.
65% of SMB owners said that customer-centric agility is more important than ever since COVID-19. (ESG, 2021)
60% of big organizations want to increase their efforts in 2021 to improve their customer experience. (XM Institute, 2020)
58% of organizations believe their CX will be outdated in just two years. (PEGA, 2021)
Around 94% of enterprises are already engaged in some form of user experience initiative. (Rackspace, 2021)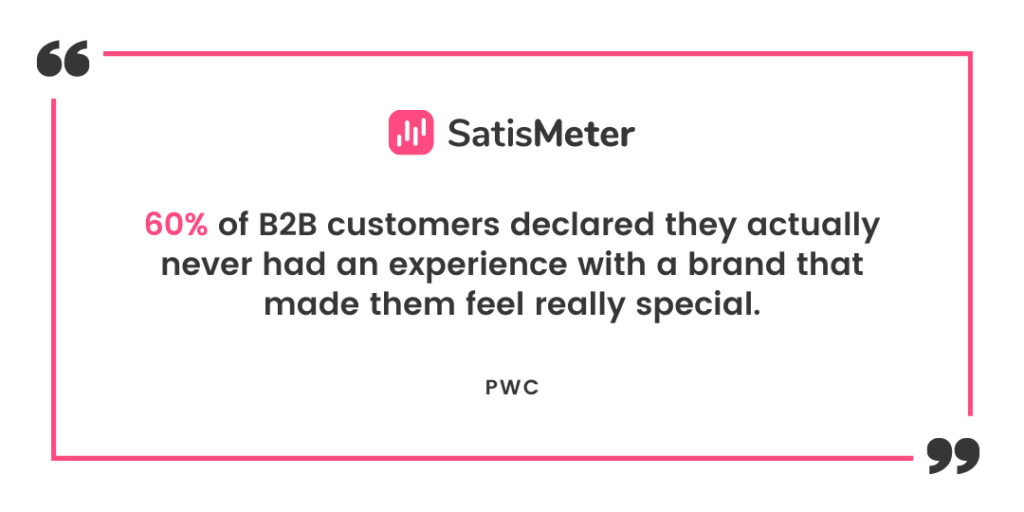 Personalization of Customer Experience
More than ever, people are begging for a more personalized experience.
Only 34% of companies treat their customers as unique individuals and not as a group. (Salesforce, 2020)
74% of customers feel frustrated when the website content and user experience are not personalized. (Instapage, 2019)
72% of consumers state they are only ready to interact through personalized messaging. (SmarterHQ, 2021)
60% of B2B customers claimed they never had an experience with a brand that made them feel special. (PwC, 2020)
Only 13% of people claimed that a company had once reached them out proactively. 85% of these customers directly reached said that the experience was valuable. (Gartner, 2021)
54% of consumers admit that since the pandemic started, they have noticed more "humanity" in the communications they have received from businesses. (Broadridge Financial Solutions, 2021)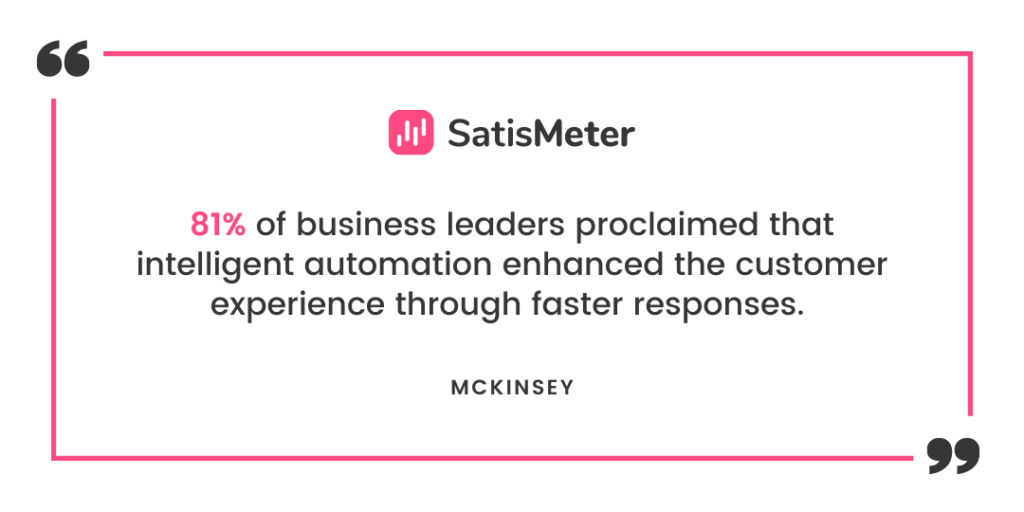 A.I and Automation, the Future is… Now?
A.I and chatbots continue to divide
81% of business leaders proclaimed that intelligent automation enhanced the customer experience through faster responses. (McKinsey, 2019)
35% of retailers plan to invest more in artificial intelligence and chatbots for their e-commerce business in 2021. (Digital Commerce 360, 2021)
86% of consumers still prefer humans agents to chatbots. By the way, 71% said they would be less likely to use a product or service if the brand didn't have human customer service representatives. (CGS, 2019)
Only 22% of consumers had a positive impression of chatbots. 60% said that chatbots don't communicate their issues effectively. (goMoxie, 2021)
In 2020, 67% of consumers used AI and chatbots for customer service – that's a big jump of 20% from 46 percent in 2019. (NICE inContact, 2020)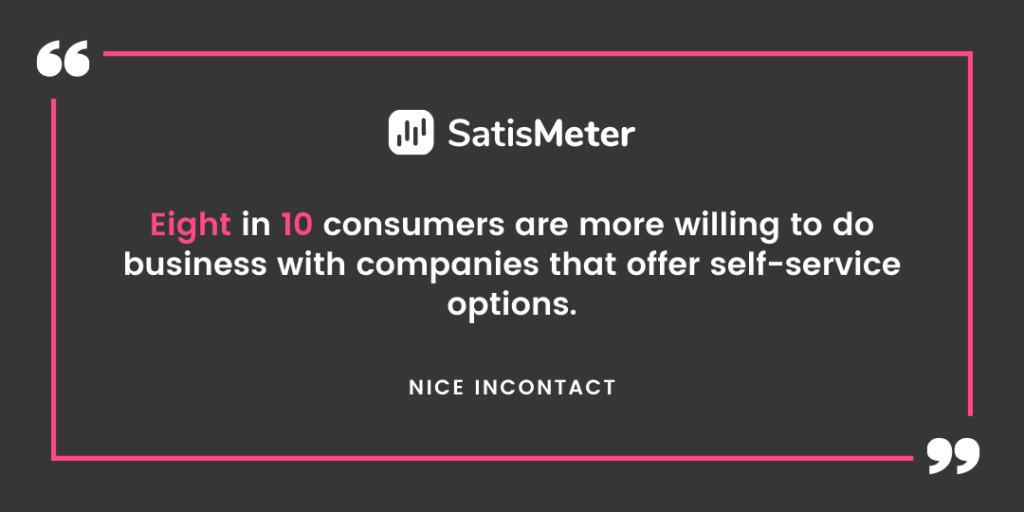 From Customer Service to Customer Self-Service
Multichannel customer service seems to be still essential, and self-service too.
Customer satisfaction ratings for live chat (85%) are second only to phone support (91%). Only then are coming help center articles (83%) and email support (82%). (Zendesk, 2021)
96% of consumers expect companies to solve their issues without the need to repeat information twice. (NICE inContact, 2020)
54% of customers used email to reach customer service, therefore the most commonly used digital customer service channel. (Forrester, 2019)
Eight in 10 consumers are more willing to do business with companies that offer self-service options. (NICE inContact, 2020)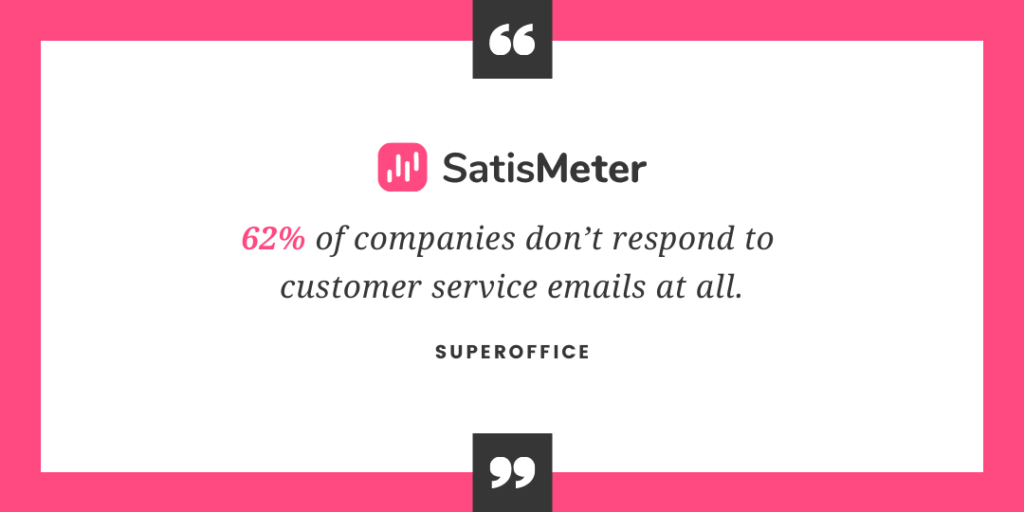 Please Respond
A good customer experience passes through a good response time.
85% of people think companies are wrongly blaming the sanitary crisis for delays in response time, whether it is about answering phone calls or lousy response time on live chat. (Moneypenny, 2021)
50% of Millenials are not entirely convinced the automated voice recordings are truthful. (ArenaCX, 2021)
62% of companies don't respond to customer service emails at all. (SuperOffice, 2021)
33% of customers are most frustrated by having to wait on hold since the pandemic. (HubSpot Research, 2018)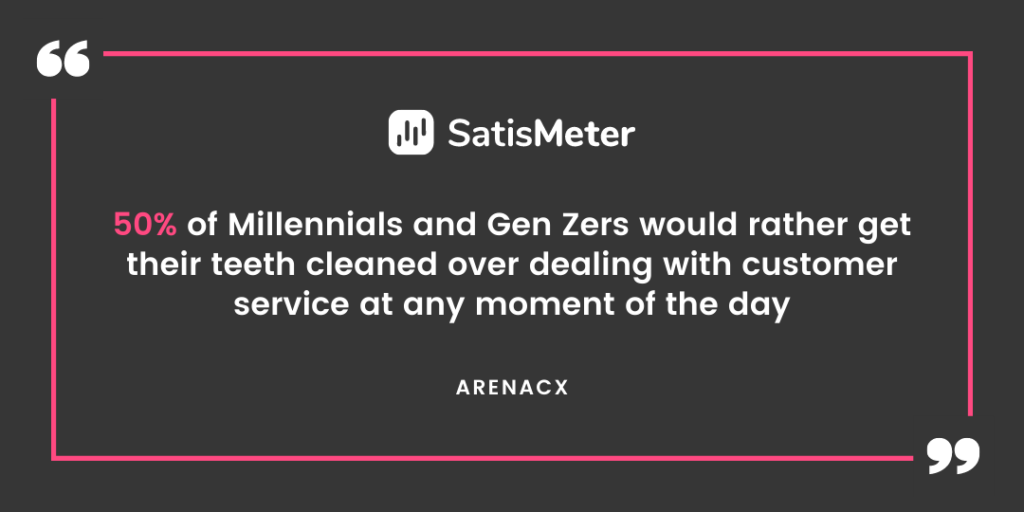 Customer Service, The New Deal
Customer expectations toward excellent customer service have dramatically increased.
55% of customers are expecting customer service to improve year over year. (Microsoft Dynamic 365, 2020)
59% of customers admitted that the pandemic has inflated their expectations for excellent customer service. (Salesforce, 2021)
50% of Millennials and Gen Zers would rather get their teeth cleaned over dealing with customer service at any moment of the day. Smooth. (ArenaCX, 2021)
56% of respondents said they would be willing to pay a premium price if it meant the company could guarantee exceptional customer support. (ArenaCX, 2021)
36% of customer service professionals feel fully prepared to handle a rush in service and support cases. (Salesforce, 2021)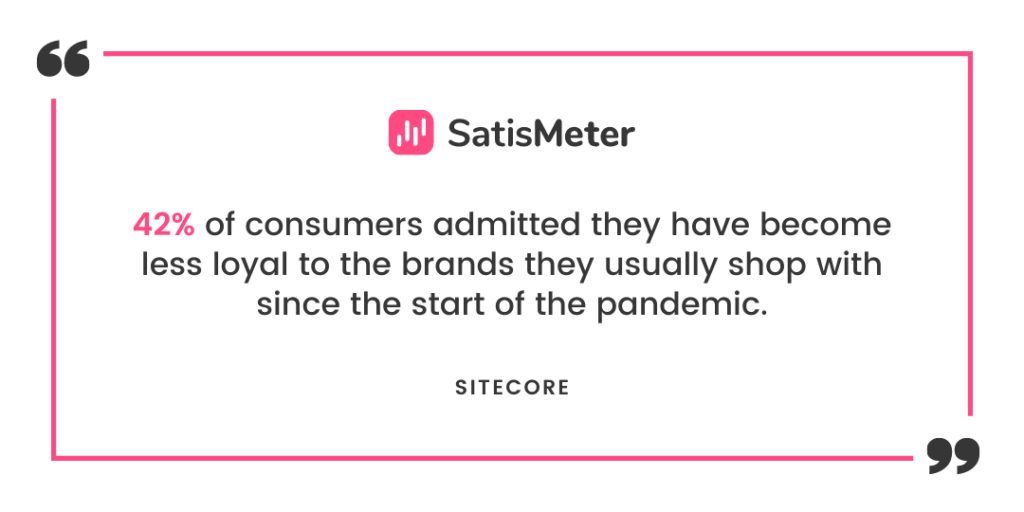 Loyalty Is a New Word
Pandemic also shaped a new meaning for brand loyalty.
After price (64%), of course, 53% of consumers rank "trust" as the second most influential purchasing factor. (Edelman, 2020)
42% of consumers admitted they have become less loyal to the brands they usually shop with since the start of the pandemic. (Sitecore, 2021)
71% of customers say that businesses who show empathy during a customer service experience will earn their loyalty. (McKinsey, 2021)
An astonishing 90% of respondents indicated that customer service is vital to their choice of and loyalty to a brand. (Microsoft Dynamic 365, 2020)
57% of GenZ consumers are ready to slip away from a brand just because this firm doesn't support and act upon the same societal causes they believe in. (Accenture, 2020)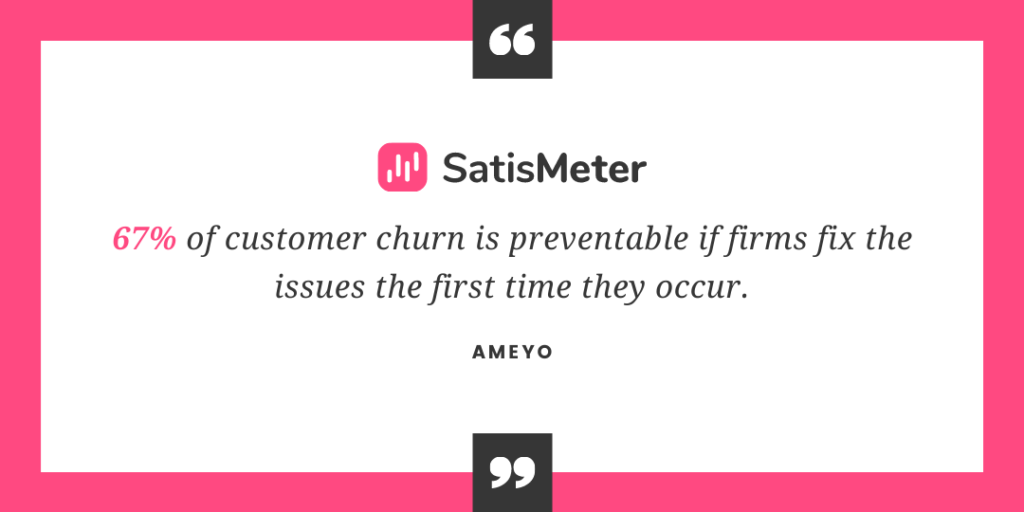 Churn and Retention
The battle against churn became crucial for companies confronted with the decrease of brand loyalty.
Almost two-thirds (58%) of consumers will terminate a relationship with a business due to poor customer service. (Microsoft Dynamic 365, 2020)
70% of consumers stated they navigate away from a site if they can't find what they need in just a few clicks. (Sitecore, 2021)
43% of consumers confessed they have stopped doing business with a company that did a poor job of personalizing the experience. (Broadridge Financial Solutions, 2021)
78% of customers will still forgive a company for its mistake if they consider having received excellent support. (Salesforce, 2020)
81% of angry customers say they would consider staying with the company in the future if they receive a high-value coupon or a gift card. (Codebroker, 2021)
67% of customer churn is preventable if firms fix the issues the first time they occur. (Ameyo, 2016)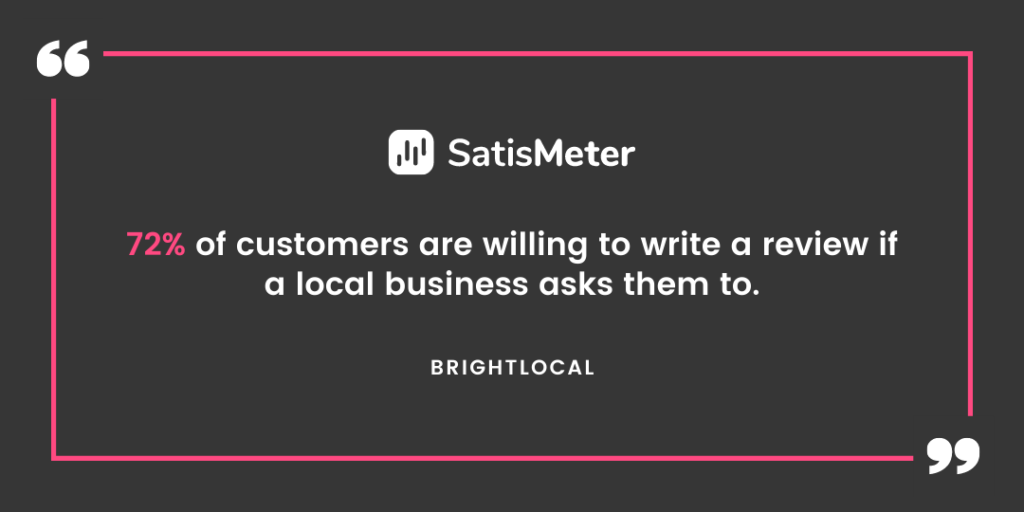 Word Of Mouth
Online reviews and word of mouth are now more critical than ever.
About 95% of customers who experienced poor customer service will proactively share it with their friends and family. (Zendesk, 2020)
The average American tells 15 people when they've had a poor customer service experience. (American Express, 2017)
31% of consumers say they read more reviews in 2020 because of Covid-19. (Bright Local, 2020)
92% of B2B buyers are more likely to purchase after reading a trusted review. (G2 Crowd, 2020)
72% of customers are willing to write a review if a local business asks them to. (Bright Local, 2020)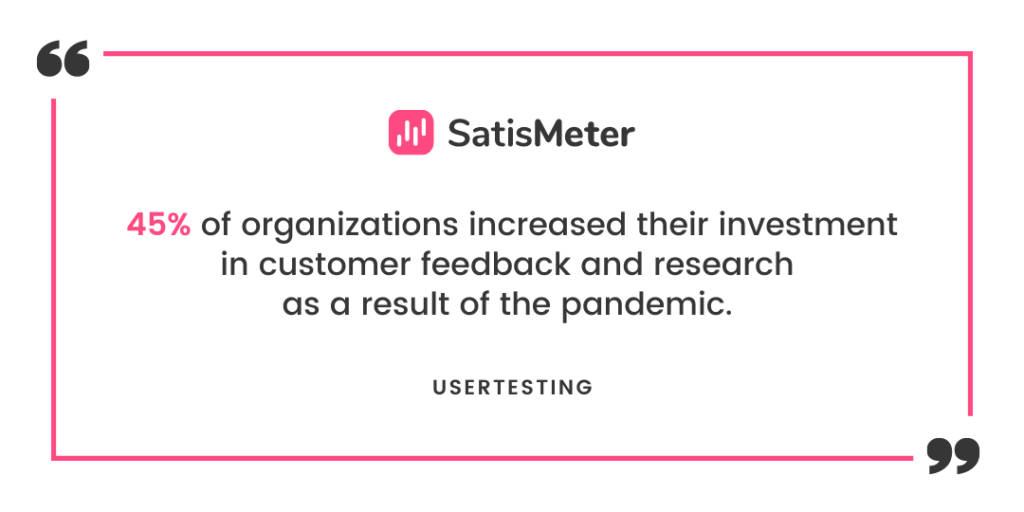 Hear My Feedback
The use of customer feedback is essential to gain back the trust of your customers.
51% of Gen Y and Z consumers are likely to respond if a brand asks them to submit suggestions for a product or service. (Accenture, 2020)
53% of customers assume that nobody pays attention to or can do anything about their survey responses or feedback. (Microsoft Dynamic 365, 2020)
Only 24% of CX specialists think that customer feedback is effectively addressed within their companies. (Forrester, 2021)
45% of organizations increased their investment in customer feedback and research as a result of the pandemic. (UserTesting, 2021)
78% of CEOs are placing the use of customer feedback to improve experiences as their key concern for 2021. (Verint Systems, 2020)
54% of marketers see the lack of customer insights being their most significant challenge on the road to a successful customer experience strategy. (Mapp, 2021)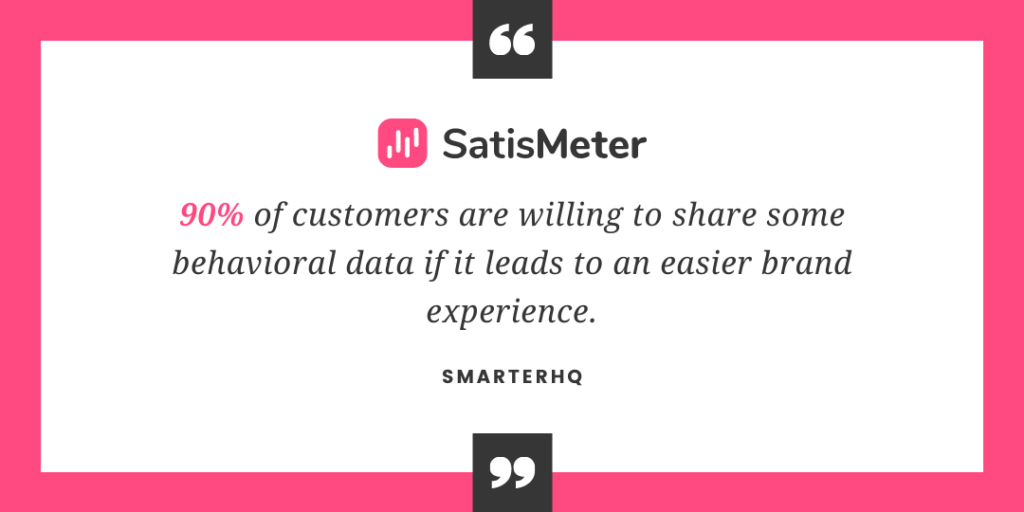 So bring up the data…
79% of consumers think companies know too much about them. But yet, 90% are willing to share some behavioral data if it leads to an easier brand experience. (SmarterHQ, 2021)
If they can get personalized discounts, around 50% of consumers are willing to share information on products they like. (Retail TouchPoints, 2019)
90% of decision-makers mentioned the problem of unifying data across silos as the main obstacle to drive analytical insights. (Verint Systems, 2020)
… And close the loop of customer experience.
99% of Customer Experience and Success leaders believe Customer Experience Management positively impacts their business. (Lumoa, 2020)
Hopefully, these 55 facts urged you to start collecting customer feedback, if you were not doing it before! Create your SatisMeter account and start leveraging customer feedback for a better customer experience.
Sign up now